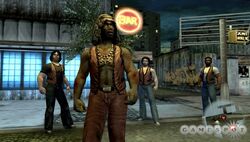 Coney Island (Objectives)
are bonus missions where the player can choose to help other people in Coney Island. In return for helping these people, the Warriors will learn new abilities.
Gangs Involved
Edit
Walkthrough
Edit
This is a list of all the Bonus Missions in Coney Island.
1. Turf Invasion #1 – Wreck the Van Cortlandt Rangers.
2. Robbin Hood – Get Rudy $100 and deliver it before his train leaves.
Unlock: Location the dealers
3. Turf Invasion #2 – Wreck the Panzers.
4. Busted – Free all 5 of Twiggy's associates.
5. Turf Invasion #3 – Wreck the Electric Eliminators.
6. Flash Head – Get a Foam Finger from the Little Buddha while dosed on Flash.
Unlock: Increased Flash Capacity to 4 hits
7. Turf Invasion #4 – Wreck the Hurricanes.
8. Vigilante Justice – Track down the stalker and cuff him.
9. Turf Invasion #5 – Wreck the Satan's Mothers.
10. Carney Compassion – Beat up the punks that stole Jasper's Costume.
11. Turf Invasion #6 – Wreck the Jones Street Boys.
12. Deal With It – Make purchases to root out the phony dealers.
13. Feed The Homeless – These bums are hungry-and picky. Feed each according to his taste.
14. Freedom – Free the Warriors without getting busted.
15. Flash Point – Pop 10 hits of Flash before the timer runs out.
Unlock: Instant Rage with Flash
Ad blocker interference detected!
Wikia is a free-to-use site that makes money from advertising. We have a modified experience for viewers using ad blockers

Wikia is not accessible if you've made further modifications. Remove the custom ad blocker rule(s) and the page will load as expected.